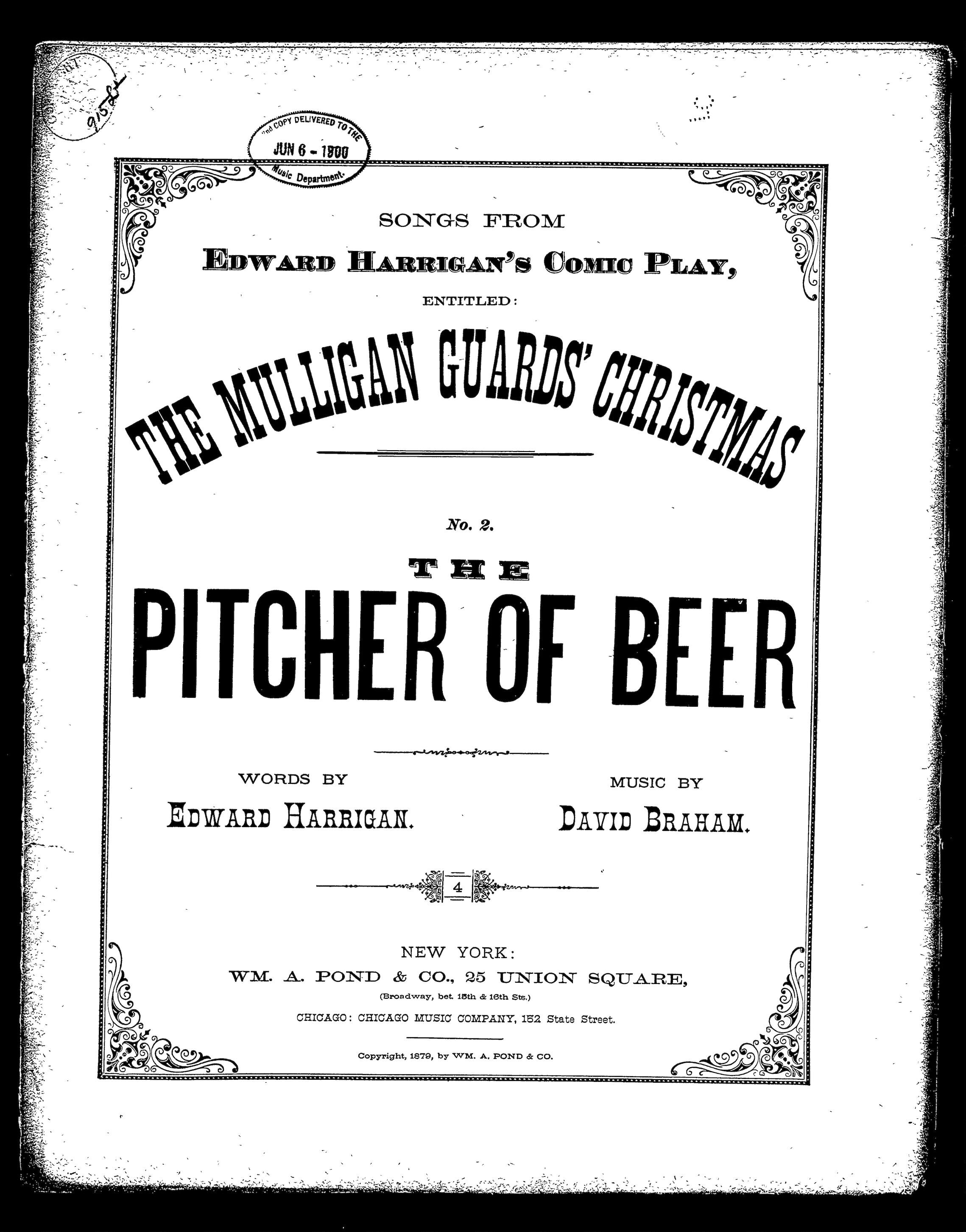 I'm a friend of the poor man wherever I roam, no matter what countryman he,
I will share in my loaf and the meat on the bone, with a gra machree welcome for thee.
Each night in the week, each week in the year, with our hearts and our conscience both clear,
We will fill up the glass for to help the time pass, and drink from the pitcher of beer.
(Gallagher repeats these last two lines here with the same melody)
The child in the cradle, the dog at the door, the fireside cheerful and bright,
The old folks at the table with plenty galore will welcome you in with delight.
Their blessings they'll give, it's "Long may you live, and merrily pass over each year,"
They will hand you their glass for to help the time pass, and drink from the pitcher of beer.
Oh be cheerful and merry for life's but a day, we'll die and leave others behind,
For to fret and to worry, to weep and to pray, when relief we can easi-lye find.
Just pull up a chair and drive away care, and that will turn sorrow to cheer,
Tell a story or two, let it be old or new, and drink from the pitcher [spoken:] of beer.
_______________________________
We are back to Beaver Island, Michigan this week with a song I transcribed from the singing of Dominick Gallagher as recorded by Ivan Walton in 1940. Gallagher (1867-1954), like many other Beaver Islanders of his generation, was the son of a man from Arranmore, County Donegal. Gallagher's father, "Big Dominic" was himself a great singer with many songs imported from Arranmore. However, the younger Gallagher did not get this song from his father. He told Walton:
"I learned that song in the lumber woods when I was 17 years of age [ca. 1884], the first winter I left home, from an old French Canadian… …I was up in a camp called Camp Three. It was built new that fall ..up at Grand Marais on Lake Superior shores and that winter the snow was about five feet and a half on the level and I shoveled snow all winter for 16 dollars a month and put in 14 hours some days."
As with "Barney Blake" (See Northwoods Songs, Oct. 2014), the Grand Marais mentioned is almost certainly Grand Marais, Michigan. And, like "Barney Blake," "The Pitcher of Beer" is a song that began on the Irish music hall stage and then entered the unaccompanied tradition in the northwoods lumbercamps. The original was written by Edward Harrigan, one of the most renowned Irish songwriters of the 19th century for the 1880 play The Mulligan Guard's Christmas… so there is a seasonal connection. The Library of Congress has a copy of a sheet music version printed the year of the play. It's interesting to compare the original with the way the song was sung by Gallagher.